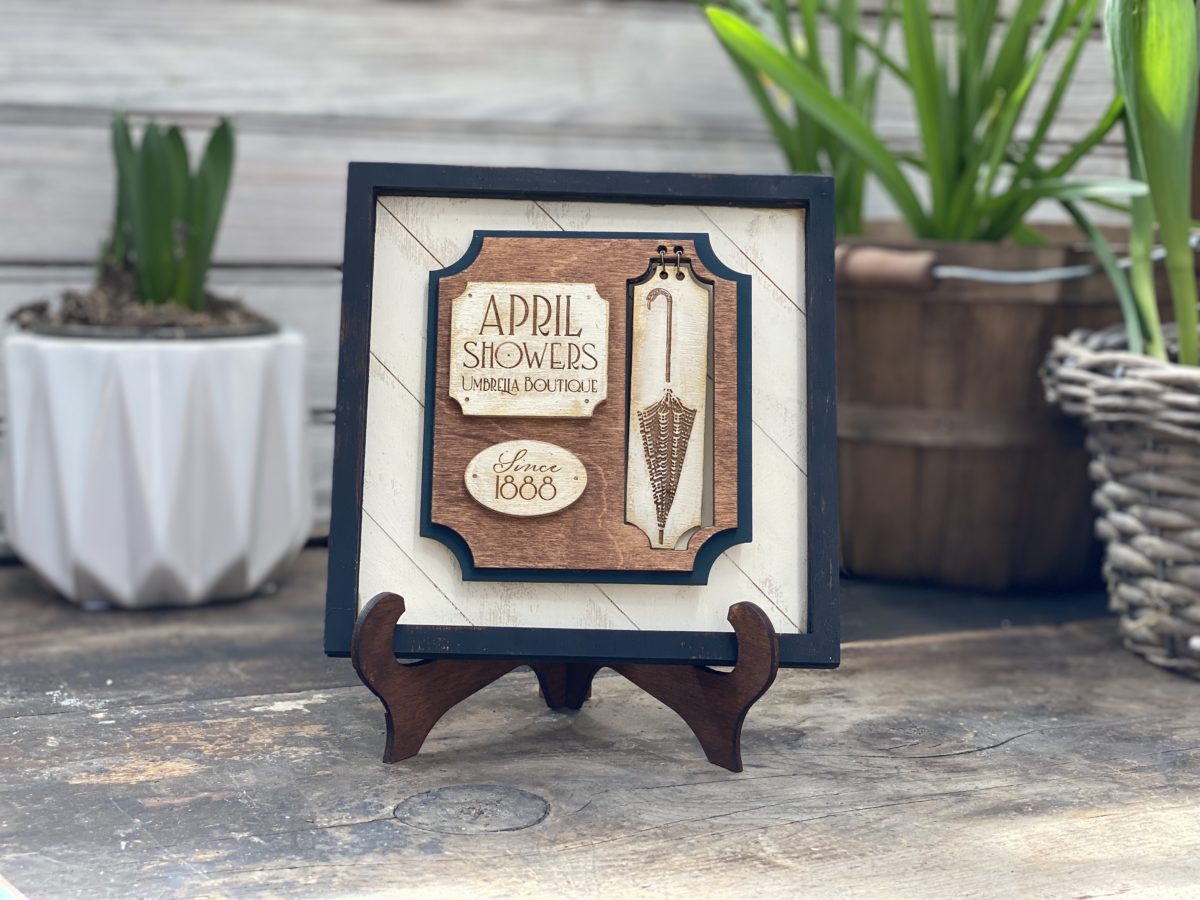 all about the spring vibes
If you're all about the Spring vibes like me, you've sprouted up in the right place! While Winter was wildly mild in the Mid-Atlantic (and Spring/Summer seems to have arrived in March with temps verging on 70˚), I know my New England friends are ready to feel the warmth of the sun on their faces as they venture out to style their homes and spread TLC amongst their gardens. How 'bout you?!
This month I introduced my Spring 2023 Collection of Interchangeable Season Signs, just in time for Easter! But the beauty of the system is that they are equally perfect gifts for Mother's Day. My theme this year is "April Showers Brings May Flowers." And naturally (I have an affinity for the history of…everything; I think it comes with my love of all things old, but more on that later…), I had to find out where this saying I've been reciting for four decades originated. So let's take a minor detour through the gardens of time and please humour my love for some vintage Spring vibes.
History Detour
The phrase "April Showers Spring May Flowers" is most closely associated with 16th Century poet Thomas Tusser. In his text "Fiue Hundred Pointes of Good Husbandrie," Chapter 38, he writes:
"Sweete April showers, Doo spring Maie flowers."

Translated from Old English…"Sweet April showers Do spring May flowers."
However, one can argue that the original inspo for this phrase originates from 14th Century Poet, "father of English Literature" AND Spring vibes, Geoffrey Chaucer. In "The Canterbury Tales" Chaucer offers us his vision for the arrival of Spring.
"Whan that Aprill, with his shoures soote
The droghte of March hath perced to the roote
And bathed every veyne in swich licour,
Of which vertu engendred is the flour;"
Roughly translated, "With his sweet showers, April has pierced the drought of March to the root and bathed every vine in the sort of liquid by which flowers are conceived."
Any way you shake it, no one could have painted a more beautiful image of what's taking place around us as we speak. Renewal in nature presents us with a perfect blank canvas for starting over in our homes and greenhouses. And thus, the inspiration for my newest interchangeable, seasonal tiered tray (or shelf) signs.
All About my Mini Signs
While eventually worthy of a post all its own, my love for signage, particularly vintage signs and advertising, has traveled with me my entire life. And now with my laser cutter and other wood tools, I've been able to more easily bring my imaginary signage (inspired by the advertising found on my adventures) to life for you. With April's signs just released, I am already working on products for May and this upcoming Summer, including personalized interchangeable badges! Be sure to sign up to receive updates on product drops as well as DIY activities for you and the family. Let's get outdoors this Spring!
Your Checklist?

And for Further Nerding Out…

Sweete April showers, Doo spring Maie